How the TicketBust Process Works
Get Started Now and Save $30
How Do We Do It?
Our system allows you to answer a series of questions related to your traffic ticket. Then our algorithms match your answers to our questions to the proper defenses that relate to your specific circumstances. You are then provided access to download and review all your defense documents and make changes if needed. We then provide you with instructions on exactly how to send your Trial by Written Declaration documents to the court to fight your traffic ticket.
It may seem complicated, but when you've helped driver's contest thousands of traffic tickets (and counting), using a Trial by Written Declaration, you get a pretty good idea about how to develop a system to do this effectively and successfully.
STEP 1: FIRST THINGS FIRST
Our systems do all the work for you.
You don't have to go to court because we help you fight your ticket in writing. You don't have to prepare your written defense. Our systems do that for you. All you have to do is mail documents to the court (the court does not allow us to mail it in for you). Then you sit back and wait for a response.
Win or Lose.
If you win, the court will send you your bail money back, and it will be as if you never got a ticket. If you lose, you can fight it again or take traffic school. Either way, there is no penalty for filing your written defense.
How is this possible?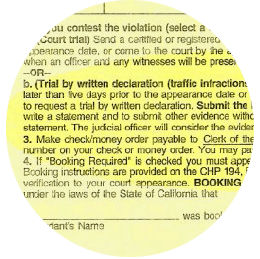 Look at the back of your ticket. You're looking for Trial by Written Declaration. That's your best bet to beat your ticket. Because:
You don't have to appear in court.
The courts are overloaded, and they just don't want more work.
The officer has to respond in writing, and they don't like to write.
How we do it better.
We've been helping people fight their traffic tickets without using a lawyer for over a decade. Our system has helped thousands of people fight their traffic tickets. And we're always making it better.
Our service starts at only $99, and it will help you launch the best defense you can get.
As with everything in life, you're not guaranteed to win. But considering how easy and effective it is, this is a much better way to spend your time than going to court.
STEP 2: TELL US ABOUT IT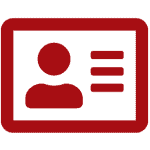 Create an account with us.
It's free and easy. Get started below. Don't worry, you only pay once everything is in the system and you really want us to go to work.

Upload your ticket.
There's no chance you'll miss anything because our traffic ticket processing system will review all of the ticket information for you.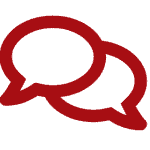 Tell our expert system about your circumstances.
You'll need to know things like the time of day, the weather, the driving conditions, the amount of traffic and other relevant details. Our system analyzes your best option and helps you contest the points about your ticket so that the court gets what it needs to rule on your case.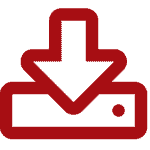 Download your defense documents.
You download your defense documents, print, sign, include a check for your bail, and mail it to the court. Easy.
STEP 3: JUDGEMENT DAY!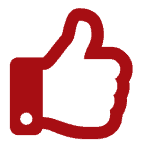 If you win.
The court will refund your bail payment in full. No points on your driving record. No wasted time and no time spent in court. And you get bragging rights.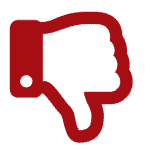 If you lose.
You're right back where you started, you can still have your day in court, and you can still take traffic school if eligible. A Trial by
Written Declaration is a no-brainer. The only way to go.
ticketbust.com even offers a service fee refund just In case your ticket is not dismissed (subject to terms and conditions).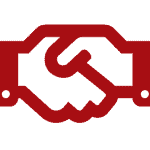 Want help?
We've been doing this for over 20 years. We are always improving our system to stay ahead of the courts. Besides, our process is so easy, it will only take you a few minutes to provide us all your information and answer questions about your ticket.
Get Started Now and Save $30